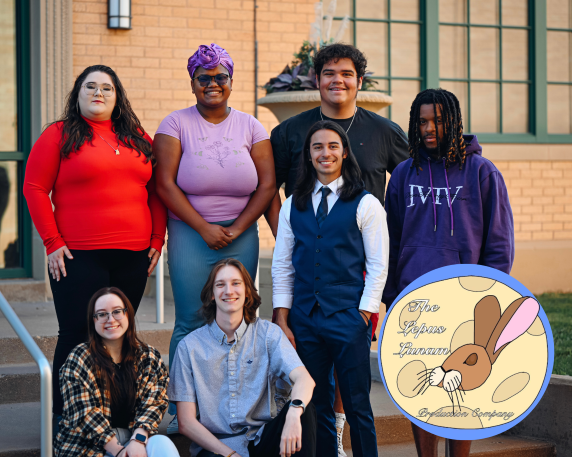 Lepus Lunam: A New Theatre Company in Town
Two new theatre companies have emerged on campus, one of which is called Lepus Lunam! Lepus Lunam was founded this semester by students in THRE 3325 Theatre and Fine Arts Management. Professor LW Miller challenged the class to build two new theatre companies from the ground up. This article will focus on Lepus Lunam.
Lepus Lunam seeks to entertain and enrich the minds of their audience with new ideas for theatre as well as provide opportunities for those who want to become a part of the theatre community. Executive Director Lee Neighbours explains the name's origin:
"We were having a hard time with names, and we ended up going on a random name generator for our company. And we really liked the one—it was 'rabbit in the moon.' We really liked that. We really connected with it. 'Rabbit in the moon' was a very recognizable thing to advertise. And then we looked it up and there were a lot of things associated with 'rabbit in the moon.'"
To make their company standout they translated "rabbit in the moon" into the Latin "Lepus Lunam," which is now featured in their company logo created by Artistic Director Natalie Thompson.
Lepus Lunam is run by seven students: Technical Directors Dalton Martinez and Matt Lamar, Artistic Directors Natalie Thompson and Mackenzie Farias, Marketing Directors Emma Gates and Abigail Brown, and Chief Financial Officer Rob Charles.
"We are all very new to this and learning," says Neighbours.
Between attending classes, working jobs, and participating in other theatre productions, running a theatre company has not been easy for these inexperienced but ambitious students. But they've learned many important skills along the way.
Martinez says, "I've been tasked was building a website from the ground up. I've spent many hours trying to create a website for our company with no experience doing so."
Neighbors details his experience as Executive Director, "I've done mostly everything—I've had a hand in every department. I do all of the scheduling and delegating of tasks. I decide what needs to get done, when, and who's going to do it."
Despite these challenges, the producers of Lepus Lunam feel optimistic for the future of their company and careers in theatre.
Martinez says, "I hope that the company will continue past the upcoming end of the semester. Thus far, with the challenges we've overcome, this company has the potential to expand past McMurry. Potential to go out into the real world and do bigger and better things."
Their first production is Once Upon THIS Time by Richard Gremel, a play about classic fairytales and how well they hold up when viewed from a modern perspective. Once Upon THIS Time is directed by Class of '22 alumn and Digital Media Specialist Savannah Wilchar and features a hilarious cast of McMurry students.
Neighbours says, "I think the most important thing to me now is that people come and enjoy our show. Because we've put in a lot of time into getting this set up."
Come see Once Upon THIS Time tomorrow Saturday, November 12th at 11:30 am in Bishop's Hall in Old Main!