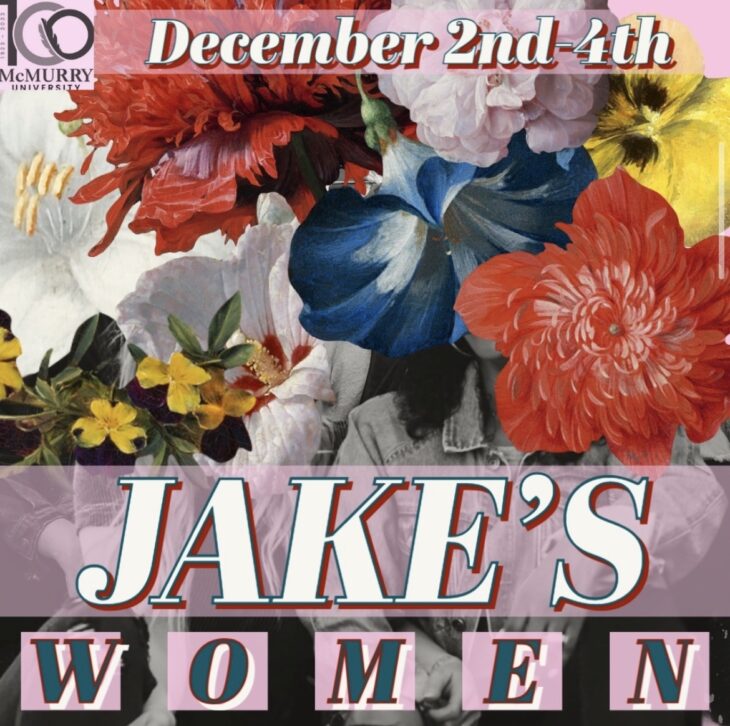 Student – Directed Show starts December 2nd
Happy November! The days are getting colder the nights are getting longer, and it seems there is nothing to look forward to in this month leading up to winter break. However, McMurry Theatre calls you to halt those downing thoughts and channel your energy and anticipation to their final show this semester, Jakes Women!
Jakes Women, written by Neil Simon, will be the first student-directed show this year. Matt Lamar, a senior majoring in Theatre, has chosen this play for his directorial debut and is very excited to share the compelling and sometimes comedic story with the community.
Jake, a 53-year-old writer in New York is watching his wife, Maggie walk out of the door. The audience then follows his journey of self-discovery as he manifests the appearance of his sister, therapist, daughter, first wife, and Maggie to figure out why he can't make a marriage work. The play exhibits themes of relationship love and self-love. That through Jake's struggle to gain sanity and stability, the overwhelming truth behind the show is, "that love can be messy. It can come in many shapes and sizes, and that you have to love yourself in order to love someone selflessly" (Lamar).
This wonderful story was chosen by Lamar because of the intricate and unique character study. He says that the intertwined stories caught his attention and made him fall in love with the characters and their relationships with each other. The cast for this show was also very limited gender-wise. The character Jake being the only male role, left 7 female roles to be fulfilled. The McMurry Theatre program has impeccable female talent, and Lamar saw the limitation of characters as a way to showcase the female presence in the department.
This being his first directing experience, Lamar reveals that there were challenges and obstacles he needed to anticipate. Lamar shares that the hardest part for him has been, "the constant changes that happen while directing." Having an idea and plan for the show is easy, but once the actors and designers begin experimenting and making choices, "it can change everything in a scene." According to Lamar, "It's falling in love with one idea and being willing to let go that can be hard."
The show deals with so many emotions and conflicts, and Lamar discloses that he wants to, "be a little outside of the box using technical elements." Whether it's experimenting with lights, sound, or costumes, Lamar has clear visions of how those components should complement, "the emotions that the characters give off and the emotions they bring out of Jake.
As time draws closer and closer to the show date, Lamar shares his excitement and anticipation for the performance. He says, "I am most excited for my parents to see the show. They pushed me to do theatre and have supported me all the way, so I'm excited for them to see my growth as an artist." The intense and touching story is coming to the stage December 2 and playing till the 4th in the Amy Graves Little Ryan Theatre! Come out and support Lamar and other McMurry Theatre students as they implement their passions onstage!