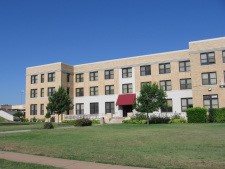 Evaluating McMurry's Housing Infrastructure
Housing is an essential part of the college experience. Living on campus can have an abundance of advantages, such as, meeting your potential best friend in your roommate, enjoying a conversation with your neighbor, or simply spending time with those who can be much different from you and learning from them.
At McMurry, several students are pleased with their living situation. However, in a recent survey conducted around campus, four out of ten students report that they are unsatisfied with the infrastructure under which they live in.
"When I lived in Martin, my sink was about to come off the wall and no one did anything to fix it until I told my dad about it," said junior Kaitlyn Thompson. "There were several other problems that weren't addressed quickly, like my air conditioner leaking constantly."
Students such as Kaitlyn have taken to social media to vent their problems regarding housing, specifically its infrastructure. Students have reported roaches, rats, low-quality water pressure, and mold, among other problems.
Recently, an anonymous student took to social media to report the problem. The student posted a video on Facebook that showed mold and other infrastructural problems around her room in Martin. When the right authorities received notice of this problem, maintenance was instructed to paint over it.
"We all know you can't just paint over mold," said the anonymous student. "I got a hotel room for two nights because it was making me sick. They came in and cleaned it eventually; however, they only cleaned one spot and not any other spots in my room or bathroom."
Although maintenance has addressed these problems, they seem to persist and come back in some way. McMurry, however, is not the sole problem solver in the Hunt and Martin dorms. A private housing company, known as Campus Living Villages (CLV) operates both Hunt and Martin, and any problems regarding housing goes straight to them. No comment was available from the representative from CLV at the time of this article.
Aside from the infrastructural problems concerning Hunt and Martin, there are many other issues with Gold Star, President, and the campus apartments, which are operated and owned by McMurry. "Like any other residence hall that has existed for a while, there are problems such as paint, flooring, plumbing, and the general upkeep of a large building like the dorms with over 300 people living in them sometimes, it will get its wear and tear," said Jessica Nguyen, Director of Residence Life and Housing.
Budgetary confinements seem to keep housing somewhat stagnant. There is a lengthy process when requesting something for the dorms and has to be approved by certain people first and only then, depending on the school's budget, will it push to resolve these issues. The average time for this usually takes a fiscal year. The process for getting an issue resolved or getting the money to fix it isn't just a McMurry problem; moreover, it is a national problem and occurs at every university in the U.S., whether big or small.
"The maintenance department worked tirelessly to locate an isolation in the basement of Gold Star and seal it. A lot of man hours went into that and so far we have had no continued leaking," said Nguyen. "There are all kinds of proposals for maintenance including new flooring, new plumbing, and new paint for all the dorms. We are always looking to make the dorms as conducive to learning and community as possible with what we have to work with."
Although some infrastructure problems prevail throughout some of the dorms of our campus, there is no doubt that the residence life and housing staff do a tremendous job of answering questions and provide a college-living experience conducive to learning and having the best college experience possible.
Budgetary confinements limit the pace of how fast an infrastructural problem can be fixed. However, Nguyen assures that infrastructure is not primary in the living experience. "Putting the student first is essential," said Nguyen. Residence Assistants in the near future will have more responsibility with their residents, such as helping out students who are sick by contacting professors, assisting with classwork, among other aspect in order to enrich the student's learning experience. Nguyen added that while other schools are closing their residence programs completely, McMurry stands apart by trying to solve the issues before giving up. "I think right now is a time for transition. It's important to keep perspective on issues and make sure students are best served, kept first, and work with our partners the best we can to make it [housing] the best it can be," concluded Nguyen.