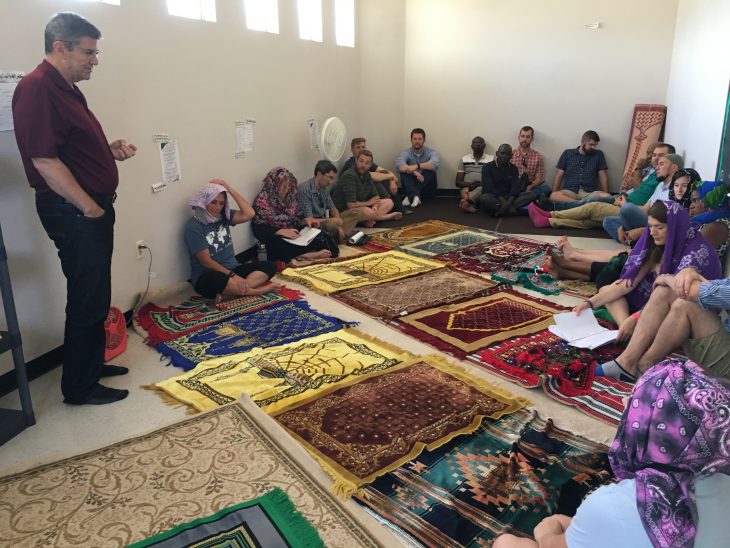 Love Two Years Later: The Muslim Prayer Room
Roughly two years ago, McMurry University moved the Muslim prayer room from the servant leadership room to the community room in the campus apartments to accommodate more of our Muslim students by offering them a safe and larger place to pray. Although there was outrage from the local community, two years later, McMurry still proves how it is a pioneer in interfaith and how McMurry loves and cares about its students.
The fact that a Methodist school implemented a prayer room dedicated to serve its large Muslim population was unheard of in the Abilene community until McMurry. Thanks to several leaders among our campus—both students and faculty—McMurry has set itself apart from all other universities in town by providing a diverse and accepting campus community.
One of those leaders is Dr. Mark Waters. A renowned professor of religion, head of the international education program, and a sponsor for the Better Together Alliance, Dr. Waters's love for McMurry reaches far beyond than changing students' lives.
"The prayer room was a big symbol," said Dr. Waters. "It was a way of saying that we care about interfaith work and that we care about all of our students of any religion, of any background, or of any world view."
McMurry accounts for a large portion of foreign students in its population. Majority of the students that come outside of the U.S. are from Saudi Arabia. The fact that Muslim students are coming to a relatively conservative town with strong Christian beliefs leaves them uncertain on how to practice their faith.
"Before McMurry's prayer room in the apartments, my friends and I would worship at one of our friends' apartment," said junior Sultan Faqqash, majoring in biomedical science. "Thanks to the larger space McMurry provided for us, not only does it make it easier for us to pray, but it provides a place for other Muslims in Abilene who need somewhere safe and peaceful to pray."
Love throughout the community was felt when McMurry opened its doors to anyone who desired to practice their faith. Although several abhorring comments filled social media and the school regarding the prayer room, it didn't stop for the love to spread, and thus triumph over the hate.
"The prayer room serves Muslim communities in Abilene where Muslims practice praying every day," said senior Abdullah Mishal, majoring in biology. "The prayer room makes them feel comfortable and think of Abilene, and specifically McMurry, as a second home."
Not only has the prayer room spread love around campus and our community, but it has also spread love to young leaders in our campus, inspired to make change. In the past two years since the prayer room was installed, McMurry's interfaith group, Better Together Alliance, has seen a rapid growth in numbers, though it hopes to grow even more.
"As far as interfaith goes, we have made many progressive strides to better establish the principles of equality," said president of Better Together Alliance Jaquay Thomas. "Our whole motto is to bridge gaps and bridge difference, and specifically to spread love and compassion for everybody, regardless of who they are."
McMurry's mission statement, which upholds Christian values while at the same time examines the world from different perspectives, demonstrates how we, as a school, we have to look the broader picture in life. We are here to get an education, but to also inspire, educate, lead, and serve. We cannot serve our neighbor if we are not tolerable of their religion or background.
"I'm thankful for McMurry's loving community and I am thankful that more people are becoming aware of their faith. I'm grateful that our students of different faith backgrounds are able to feel safe here on campus and are able to practice their faith peacefully," concluded Dr. Waters.