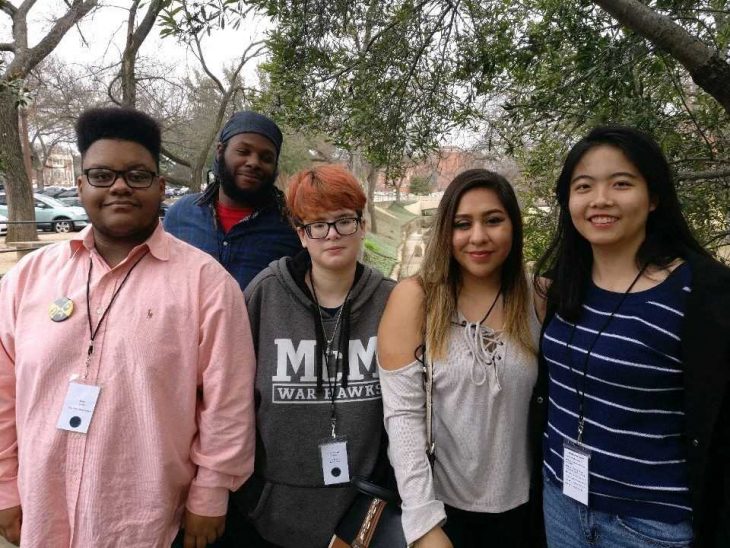 Interfaith Regional Gathering at Baylor University
Want to communicate with someone who has a different faith in a safe and peaceful space? You should definitely go to an interfaith trip! McMurry's Better Together Alliance (BTA) had the honor to attend the 2019 Interfaith Gathering at Baylor University in Waco, Texas, during the first weekend of February.
Interfaith is not a fancy word. It refers to the interactions between you and your neighbors. In the gospel of Matthew 22:35-40 in the Bible it states, "You shall love the Lord your God with all your heart and with all your soul and with all your mind. This is the great and first commandment. And a second is like it: You shall love your neighbor as yourself." It doesn't matter if your neighbor is a Christian, a Muslim, or Jewish, you should love them as yourselves.
Jaquay Thomas, who is a sophomore majoring in sociology, and president of BTA, said, "It is my first time to go to an interfaith conference. I feel I need more workshop to improve my ability to be an interfaith leader to better serve our campus." During the conference, Thomas met others in his interfaith neighborhood–a group of better together members from different universities in Texas–and had more discussions on how to encourage others to get involved in interfaith work. "We can all be governed under the idea of peace. Why not work together to live a better life as a whole? " commented Thomas. He suggested people to start from their similarities to be friends, and then to discuss their differences, which will make people feel more comfortable to find belongings and to increase acceptance.
The theme of this year's gathering is "Interfaith Heroes." Interfaith heroes, such as Martin Luther King Jr., Mahatma Gandhi, Dorothy Day, and Eboo Patel, are well known by people. Ordinary people can also be interfaith heroes, as long as they care about others, are willing to know people from other faith, and take action to help others.
Mohammed Al Samawi, who was the keynote speaker, shared his story at the conference, which entails him seeking out people of other faiths and escaping from a war-torn Yemen. "While living in Yemen, most of the people are Muslim. I was so glad to make a friend who is a Christian, and then, I convinced him to convert to Islam," said by Samawi.
He told his Christian friend to read the Quran, but his Christian friend also asked him to read Bible- a fair deal. Instead of only one transforming his faith, both of them enhanced their faith as well as gaining more understanding about others. That the start for Samawi's interfaith activism. In order to see more people from other faiths, Samawi downloaded Facebook and started making random friends. When Samawi was trapped in the deadly force of brutal civil war in Yemen, these random social media friends in the West helped him escape, which is redacted in his book The Fox Hunt: A Refugee's Memoir of Coming to America.
Samawi is a humorous speaker. He tried his best to tell his life story in a soft tone, even though he almost got killed and almost gave up on life. After going through all these horrible experiences, he transferred his pain to a positive attitude that encourages more people to do interfaith work to help others. "You, my neighbor, your help and support really matters," said Samawi.
Karla Boldo, who is a transfer majoring in multimedia design, was attracted from Cisco College to McMurry because of abundant activities in campus. "I love this first interfaith conference experience. Only when I am here, I start realizing deeply that there are so many different groups of people have the same thoughts as me. It doesn't matter which religion you are from, we can always serve and help others together," said by Boldo. She made many friends at the conference, found more hope of doing interfaith work, and planned to share these encouragements with rest of our campus.
Interfaith is really about being appreciative of people's religions and ultimately how we can move forward to make more connections. Do not feel disappointed if you missed this interfaith trip. The coming up National Better Together Week in April will provide you more chances to get involved in interfaith work.