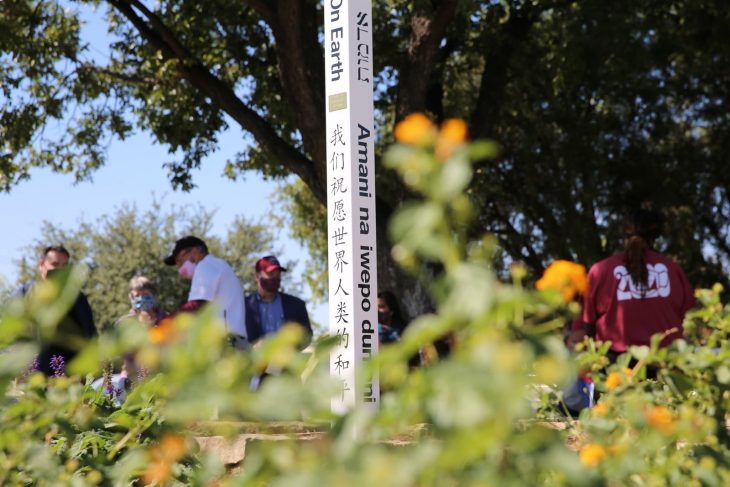 This Homecoming celebration was the start of a new leaf for McMurry with the hopeful beginning of novel traditions. A perfect ceremony to go along with such an occasion is a reestablishment of the Peace Pole. The Peace pole is a symbol of the hopes and dreams of all of humanity and acts as a representation of our university recommitting itself to promoting peace and understanding throughout the world. The words "May Peace Prevail on Earth" run down each side of the pole in eight different languages. The Peace Pole was first set up on McMurry's campus by Reverend Tim Kennedy, and on Homecoming Friday, October 16th 2020, a new Peace Pole was placed in the Wah Wahtaysee Butterfly Garden.
The dedication was hosted by McMurry's Religious and Spiritual Life and the Better Together Alliance following the McMurry Student Government's Wally Games. The ceremony consisted of a special Peace Pole prayer recited by Dr. Harper, the university president, Dr, Waters, representing McMurry's International Education, Jaquay Thomas, McMurry's student body president, and Jaden Jones, the vice-president of the Better Together Alliance. Each one read a section of the prayer acting as a geographical direction such as East, West, North, or South, encompassing the whole world with their declaration of peace.
The Peace Pole on McMurry University isn't the only one of its kind. It is an internationally recognized symbol that span across the entire world. According to the Peace Pole Project website, there are an estimated 250,000 spread out in every country on Earth. The idea first began with a Mr. Masahisa Goi after the dropping of the atomic bombs and World War II. He received the message "May Peace Prevail on Earth" and ever since then dedicated his life to promoting love and harmony amongst humanity. Thankfully, even long after his passing in 1980, people continue to carry on his legacy and his goal now rests in the hearts of thousands and thousands of people.
McMurry's willingness to devote itself to understanding amongst all is telling of the kind of people that make up its community. I myself am honored to know and work with such kind and caring people, and I look forward to seeing the good that is sure to come from them.