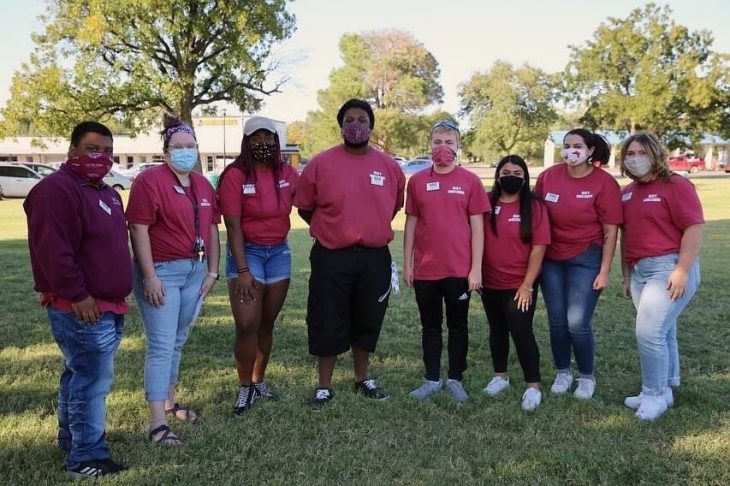 Homecoming at McMurry is always an exciting time; alumni return to campus, tipi village stands tall, and the football game brings all kinds of War Hawks fans to campus. This year, however, things have change. The ongoing global pandemic required the cancellation of many events and activities and McMurry's homecoming was no exception. No alumni or outside visitors, except parents of the homecoming court nominees, were allowed at any of the events. The coronation and club songs were livestreamed through the McMurry Student Government Instagram for those not present to watch. Perhaps the biggest difference was the lack of football. With McMurry's season pushed to the spring, the driving force behind any homecoming celebration left a void that needed to be filled.
Another major difference, is the disbandment of Tipi Village. Usually the Village brings in hundreds of visitors, but in an effort to eliminate the possibility of any offense information or actions. An outcry from alumni has been heard throughout campus but it is time for ne traditions to take the stage.
The responsibility to plan a new social-distant homecoming fell on the shoulders of junior Lois Stevens. Lois a three year member of McMurry's student government, serves as traditions chair, making her responsible for homecoming activities and Spring Thing. "The hardest part of all of this was making sure that all of the events could be socially distanced." Said Stevens. I asked Lois what helped inspire her to plan different events, "My dad, who was a youth pastor for many year, we talked about homecoming and what I could do when I found out Tipi Village had been cancelled." To fill the hole left on Saturday by the missing football game Lois Stevens planned a cookout with inflatables and to take the place of Tipi Village social clubs and other students participated in minute-to-win-it games. Lois looks to the future for next year's homecoming, "Hopefully the core values candlelight ceremony will stay," a ceremony during coronation honoring McMurry's founding principles, "I am hoping to see something that the students enjoy."
If you want to help plan next year's homecoming you can reach out to any member of McMurry Student government by email or visit their office in the Nest in the Campus Center.