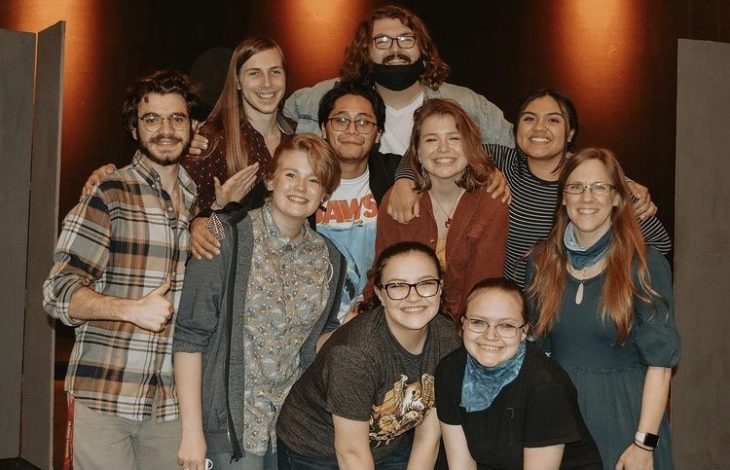 Performing Arts in Spring
As the semester is drawing to a close and final projects and exams are underway, what better way to relax from a day of caffeine-fueled studying is there than an evening in the theatre? Whether you're in the mood for a night of singing, an evening of student-directed one acts, or a light-hearted children's show, the McMurry Theatre Department has you covered.
On April 22nd, the Musical Theatre Practicum class will present their musical showcase titled "Broadway in Concert" at 7:30 pm in Ryan Little Theatre. The students will perform a variety of songs from Broadway musicals ranging from classics like White Christmas and Annie to more recent musicals like Little Shop of Horrors and Hamilton. With Professor Kerry Goff directing and his wife, Ashleigh Goff, choreographing, the night is sure to include visually enticing lighting and choreography. The only admission required is by donation. Students will perform energetic group numbers, comical duets, and heart-wrenching solos. It will be a night you won't want to miss!
The next week, on April 29th and 30th, the Directing I class will present their Student Directed One Acts in Ryan Little Theatre at 7:00 pm. There are thirteen one-acts in total which will be split amongst the performance dates. With six to seven productions a night, audience members will be sure to enjoy a taste of many different theatre genres ranging from comedy to drama to absurdism to psychological thriller. Admission is by donation.
On May 3rd at 7:00 pm, the Children's Theatre Practicum class will perform Totally Red in Ryan Little Theatre. The cast will also hold a private performance for the McMurry Math and Science Magnet School at 1:00 pm. Totally Red, by Dinah Toups, tells the popular fairytale of Little Red Riding Hood in a variety of performance styles including storybook, melodrama,
Shakespearean, 80s hip-hop, avant garde and musical theatre. Professor Neena McLain's students will have audiences laughing non-stop while demonstrating the marvelous evolution of theatre throughout the ages. Donations are encouraged but not required for attendance.
It is a thrilling opportunity to witness the future of the performing arts within our own campus. The students of the McMurry Theatre Department hope to see their peers sitting in the audience. Show dates are as follows:
– Broadway in Concert: Thursday, April 22nd at 7:30 pm in Ryan Little Theatre; Admission by donation.
– Student Directed One Acts: Thursday, April 29th and Friday, April 30th at 7:00 pm in Ryan Little Theatre; Admission by donation.
– Totally Red: Monday, May 3rd at 7:00 pm in Ryan Little Theatre; Admission by donation.