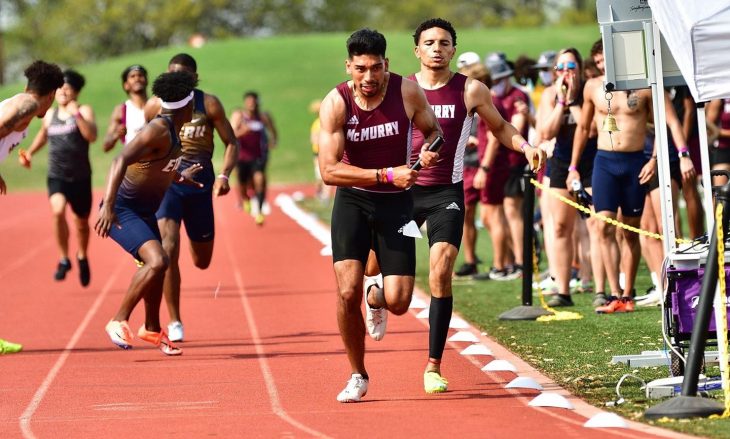 McMurry Track and Field Earns Honors
After losing the end of their season last year, McMurry Track and Field came back on a mission. The team's most recent meet at Texas Lutheran University, left the War Hawks with eight gold medals in a competition against ten other schools. Highlights include: The McMurry men took both the 4×100 and 4×400 relays, with the team now holding the nation's top 4×400 time at 3:16.03. The team of Jacob Williams, Dazhaun Walton, Jayden Sloan and Michael Limones bested second-place Hardin-Simmons by over two seconds. Freshmen Jamari Williams and Dazhaun Walton finished 1-2 in the men's 200 meter dash and both rank top 10 in the nation. Sophomore Jayden Sloan and senior Jacob Williams also had a gold-silver finish in the men's 400 meter finals with dual times of 48.51. Both ran in separate sections. The two athletes are tied for fifth in the national rankings. Sophomore Justin DeLeon collected a personal best time and a podium finish in the 400 meter hurdles with a time of 57.82 to place second. Freshman Najwa Campbell and junior Nandhi Brown had podium finishes in the women's 100 meter hurdles, with Najwa taking second place at 15.30 seconds and Brown third with 15.33. Both athletes rank in the top 20 nationally.
Freshman Losuria Webb-Barber had a time of 26.99 in the women's 200 meter finals to finish sixth place, while fellow freshman Breauna Conner placed fourth in the women's 400 meter dash at 1:03.37. Sophomore John Zuniga had a fourth place finish in the men's 1500 meter run with a time of 4:16.56. Freshmen twins Jazmin Chacon and Janeth Chacon attempted a quicker race than usual on Saturday, running the women's 800. Jazmin led in fourth place at 2:33.20, while Janeth placed eighth at 2:35.54. The women's 4×100 relay recorded a third place finish with a time of 50.85 with the team of Kelby Tidwell, Brown, Webb-Barber and Campbell. The McMurry women had two wins on the day, including sophomore Ellie Ryan in the hammer throw with a mark of 39.31 meters on her first attempt. She also finished third in the shot put at 11.05m. Both the hammer and shot put marks are new personal bests. Sophomore Corbin Stulir collected her second straight win in the javelin with a new personal best mark of 32.08m. Senior Aaron Webb made waves with his mark in the men's high jump, winning the event by clearing at 2.00m on his second attempt. He currently ranks second in the nation. Sophomore Jayden Gonzales took home a win in the men's pole vault with a mark of 4.24 meters, while freshman Rylan Rogers placed second with a 4.09m clearance. Adding to his three wins on the track, Jayden Sloan also placed fourth in the men's triple jump.
This impressive performance comes after the announcement of nine McMurry track and field members earning indoor all-region honors and a spot on the indoor All-South/Southeast Region team. Nandhi Brown, Jayden Gonzales, Rylan Rogers, Ellie Ryan, Jayden Sloan, Dazhaun Walton, Sutton Welch, Jacob Williams, and Jamari Williams were all mentioned as honorees. Keep up with the team as they continue their momentous season.