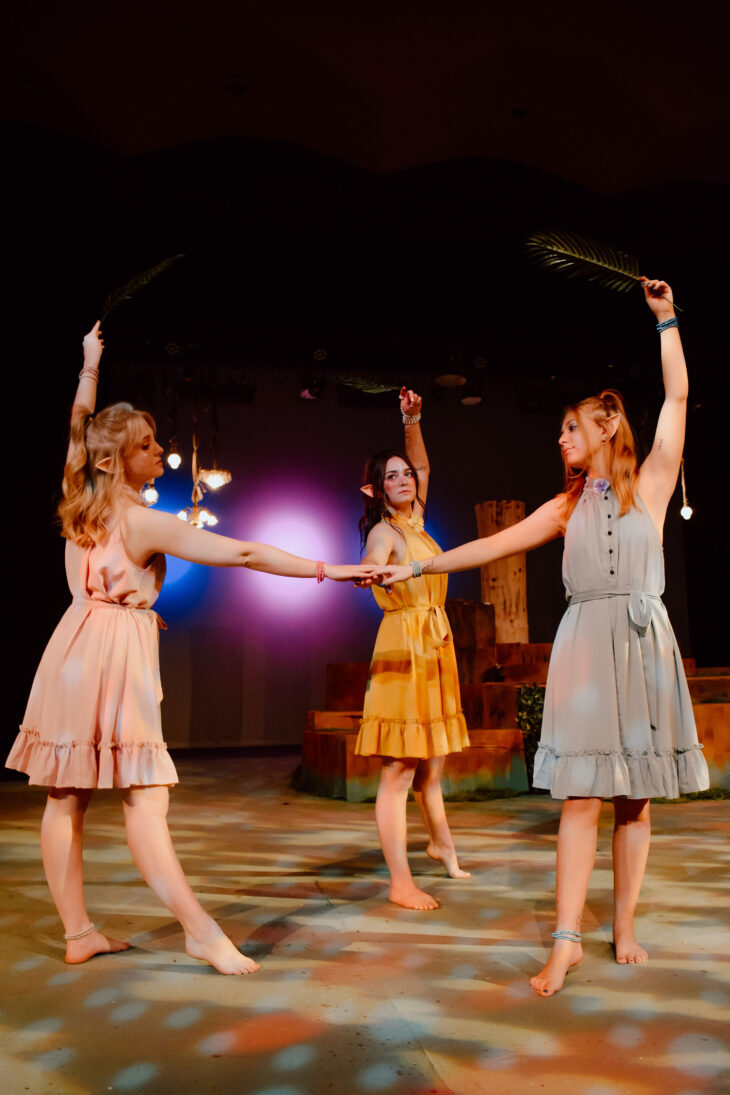 A Magical Night of Shakespeare: A Review of McMurry Theatre Department's A Midsummer Night's Dream
On February 17th, Shakespeare met 60s Woodstock in McMurry Theatre Department's production of A Midsummer Night's Dream directed by theatre professor Neena McLain.From the beautiful set and costumes to the hilarious physical comedy, the McMurry students' production perfectly captured the whimsy and mayhem of Shakespeare's famous comedy.
The McMurry Little Theatre was transformed into a gorgeous forest decked out in fairy lights and blue and purple lighting. The set was quite spacious with Queen Titania's bed on stage left, a few platforms making up mossy tree trunks in the center, and a tree beside a rope ladder hanging off a balcony on stage right.
Set designer Dalton Martinez said, "Comedies move at a really fast pace, so I wanted to incorporate that into a set so actors could have interesting blocking and transitions during the show… Being an actor at heart, I wanted to have a set that I could have fun with."
When watching a production of Shakespeare, you wouldn't think to turn to sock-hops or hippie fashion but it worked. Instead of Greek Athenian costumes, Hermia (Savannah Wilchar) and Helena (Graci Melbourne) were decked in 50s fit and flare dresses and Lysander (Matthew Marin) and Demetrius (Lee Neighbors) in a bowling shirt and a cardigan. Elmer Mejia and Mackenzie Farias, who were in charge of costume design and construction, did an excellent job using the straightlaced, clean cut 50s aesthetic to set the mortals apart from the free-spirited magical woodland fairies in 60s Woodstock clothing.The fairies, in contrast, were in 60s Woodstock inspired clothing complete with pointy ears, festival face makeup, and glitter. Queen Titania, played by Tabitha Wilson, looked gorgeous as she walked across the stage in a flowy lavender gown and glittery golden headband.
"Fairies are as boho as you get," said Tabitha, "The 60s were all about the boho stuff and flowy feel, so it benefited our characterization."
The show had lively dance numbers, choreographed by Madi Melbourne, set to popular 60s music. It was a delight watching Queen Titania's adorable fairies Peaseblossom (Madi Melbourne), Cobweb (Abby Ewing), and Mustardseed (Hayli Isbell) dance to hits such as The Lovin Spoonfuls' 1965 "Do You Believe In Magic."
The physical comedy was also top notch. Matt Lee did a fantastic job, flipping and tumbling about the stage as the mischievous Puck. The Mechanical characters played by Tashaja Gonzalez, Timothy Nelson, Dalton Martinez, Joe Caton, Sterling Halliburton, and Babak Akavan had hilarious physical comedy as well during their play within a play. When Tom Snout (Babak Akavan) delivered his monologue dressed as a literal brick wall audiences roared with laughter and the energy just kept increasing from their as a cross-dressed Francis Flute playing Thisbe (Joe Caton) floundered about the stage in heels and an ill-fitting dress.
Joe Caton said, "It was a lot of fun working for this production due to how much Neena emphasized the importance of understanding the Shakespearean text. My favorite part was working with everybody. Midsummer has four stories going on all at once, so it was nice to get it all lined up into a fluid story."
The McMurry Theatre Department perfectly demonstrated the essence of Shakespeare's comedic genius, making it accessible to the McMurry audience, and will endeavor to do so in years to come.