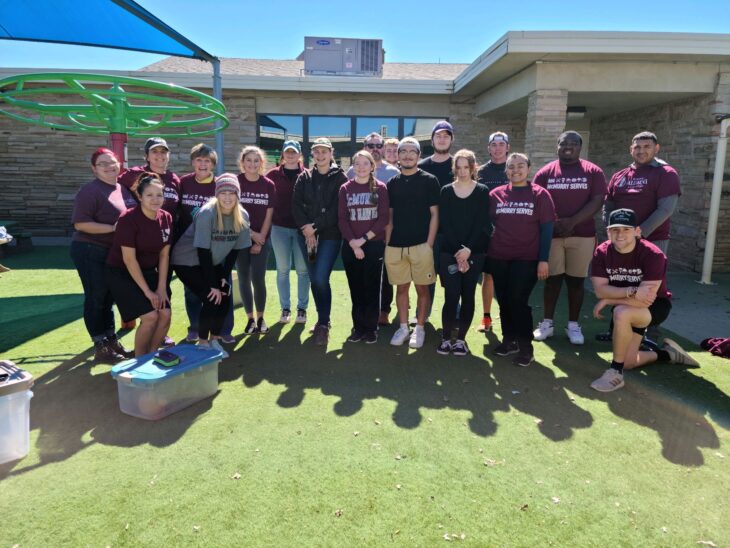 Fostering A Volunteer Culture: McMurry Serves at Aldersgate
It was a warm sunny day on Saturday February 19th as McMurry students came together to clean the Aldersgate United Methodist Church children's playground in a spirit of service and fellowship.
Susan Tucker James had organized the event. "I used to work at Aldersgate Academy as a music teacher," she said, "but now I work in the Religious and Spiritual Life office at McMurry."
Academy Director Carol Rogers led the students through the building to a playground covered in leaves and sand. The volunteers split up into groups. A few students vacuumed leaves off the ground, while others swept up the sand on the pavement and put it into trash bags. A few football players moved flower beds out of the playground to the north entrance of the church while members of the McMurry Biology and Chemistry club helped Carol Rogers empty the shed and organize what things would be tossed out and what things would stay. The shed was stuffed full of old playsets and broken toys.
Although cleaning up an old shed and hauling off broken playsets may not sound like fun, the volunteers enjoyed each other's company, laughing and carrying on.
Caryn Lawrence, a junior Biomedical Science major and member of the Chemistry club said, "It was fun getting to work together with fellow classmates on a project that will benefit children because I want to be a pediatrician. I've always loved spending time around kids and being able to help them."
Leonor Escobar, a nursing major, had a personal connection to the project.
"I came because this is my home church and I like my university and wanted to serve both."
This spirit of service was shared amongst many of the students who came to help much to the pleasure of Katelyn Scott Director of Alumni Engagement.
"It's important for us to serve. It's good to give young people opportunities to see that other people are in need. Everybody had a lot of fun today together, and we got to help people. When we do it as a group it builds community."
Caryn Lawrence said, "I always love serving because as a Christ follower, being like the hands of Jesus is really important."
With nearly twenty volunteers, the clean-up job was completed in half the amount of time it usually took in the past. Before they knew it, they were running out of things to do.
"This is the best year," said Carol Rogers who has worked at the academy for 31 years, "Not only did we finish the project in a third of the time but this is the most dedicated and enthusiastic students we've had in a while."
Rogers takes up a lot of odd jobs during her work day. "You just get to do it all," she said as she talked about the difficulties of getting the extra stuff done, "It's just enough to manage, so it's really nice when you all come out."
This project was very important to the teachers and children of the Aldersgate Academy.
"A lot of the stuff in the playground was old and broken," said James, "Now they can find their toys and play without hazards." It is wonderful to see a group of students take time out of their day to help those in need and the McMurry staff hopes to keep this trend of community involvement going. If you are looking for volunteer opportunities you can contact Katelyn Scott at scott.katelyn@mcm.edu.