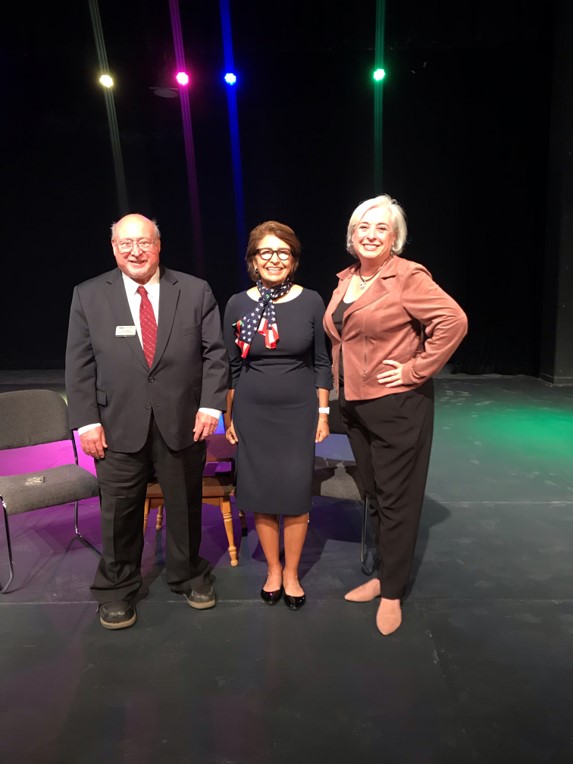 Sylvia Acevedo Inspires Students in Garrison Lecture "My Journey from Girl Scout to Rocket Scientist"
On April 11, Sylvia Acevedo inspired students to work for their dreams during her Garrison Lecture "My Journey from Girl Scout to Rocket Scientist." Sylvia Acevedo was a chief executive officer of Girl Scouts of the USA, a chairman in President Obama's White House initiative for Educational Excellence for Hispanics, and is now Director of Qualcomm and Credo corporate boards, and founder of CommuniCard LLC.
Acevedo talked about her childhood and how she learned the value of tenacity and entrepreneurial skills through Girl Scouts. Acevedo moved to Las Cruces, New Mexico and had a difficult experience in her new school. As a young girl, she was introduced to Girl Scouts where her love for science and mathematics flourished. She cited her first struggles with an Estes model rocket. She failed her first five attempts, but instead of giving up, she viewed these failures as opportunities for growth. Acevedo said, "I learned an important lesson. What is failure? It is F-A-I-L: First Attempt In Learning." After finally succeeding on her sixth try, she went to school invigorated and excited.
Acevedo cited her experience selling Girl Scout cookies as an important lesson in entrepreneurship and creating her own opportunities. Acevedo said, "When you create opportunity, you need to find what is your dream, what is your goal." In order to sell a large amount of cookies, Acevedo sought out people outside of her family and asked if they or someone they knew wanted cookies. After being taught to never leave the site of the sale until she heard "No" three times, Acevedo learned how to change her approach in order to obtain her goals and has carried this rule with her when faced with adversity.
She encouraged students to dream big and have a step-by-step plan for their goals. She told students to ask themselves, "What's your dream? What's your goal?" Acevedo said that she also encourages people to work really hard, but when you run into problems, ask for help. Think about big aspirations and big dreams. If you have big goals, work out a plan step by step. Acevedo's big dream was to go to Stanford University. She worked hard to get good grades, be involved in extracurriculars, and save money collecting aluminum cans. However, after her grandmother passed, she used her money to help her family pay for her grandmother's burial. Acevedo then altered her plan without losing sight of her big dream. She earned a B.S. in industrial engineering at New Mexico State University, and received her M.S. in systems engineering at Stanford University.
Acevedo didn't stop dreaming and wanted to get into technology. She started out as a facilities engineer. She took her small jobs and thought about how she would create opportunity there. Acevedo said, "I talked to the people who were actually working there and I said, 'How would you design this?' And they had some really innovative ideas." She presented the old way the workers were doing things and their new innovative ideas; after being approved to try the new ideas, "Production went way up," she said. She drove home the importance of making the most of any opportunity, no matter how small. "When you're doing your career, that's something to always remember. You need to get in and get started. Always do your best and always try to find out innovative ways to make that happen."
Students gained a lot of wisdom and encouragement from Sylvia Acevedo, more than can be captured in this article. She talked about her later accomplishments including working for NASA and meeting President Obama, but the emphasis was on her passion for science and mathematics and entrepreneurial skills she gained as a child and how they carried over into her adult life. Overall, it was inspirational to hear her explain how anyone can create opportunities for themselves, pursue their passions, and help their community.