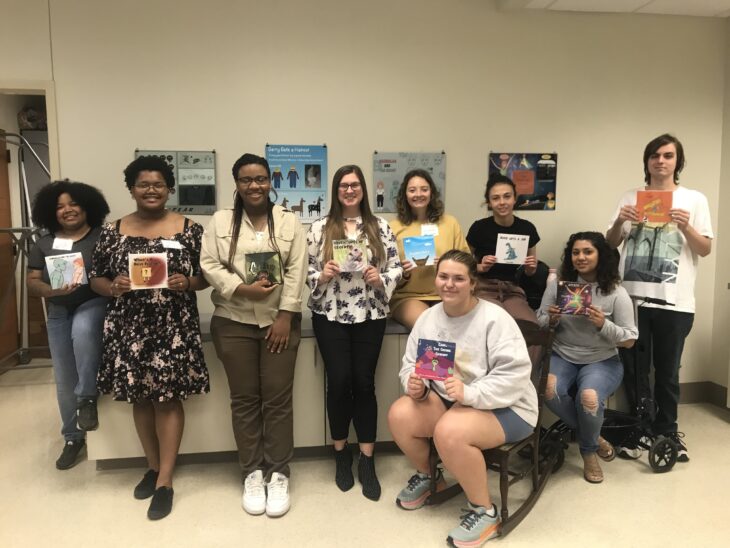 Milk and Cookies: Spring 2022's Children's Book Exhibition
On May 6, in the Gypsy Ted Gallery II, students presented their work for the Milk and Cookies Children's Book Exhibition.
As part of Professor Tyson's Desktop Publishing class, the students learned how to build print materials such as flyers and menus. Their final project was to create a children's book. Before the reception, students received feedback from the world's toughest critics: fifth graders.
Students from the Math-Science Magnet school came to the exhibit and received milk and cookies, and chose a few stories to be read to them.
They ooh-d and aah-d at the stories as they leaned forward in their seats. They exclaimed at the twists and turns, the jokes, and of course the pretty pictures.
"It was really fun watching their reactions to it," said Natalie Thompson, a multimedia graphic design major.
After the children left, it was fun walking around and looking through all of the books. Each student had a different style and flair to their story. Some wrote creepy stories, others wrote about friendship. One story was about an alien cowboy and another was about a witch trying to get rid of a ghost.
Professor Tyson's students enjoyed this creative project and the ones that came before it. They gained a new appreciation for printed flyers, designs, and even restaurant menus that they may not have had before.
Natalie Thompson said, "This class has made me fall in love with creating logos and creating menus, and that's what I want to do: become a graphic designer."
Professor Tyson explained the challenges of the class: "Time [is] needed to work on a layout to find the images you need to use. I also give [the students] messed up copyright; in the industry you're not always going to get pristine word documents."
The books were very creative and the exhibition reminded me of going to book fairs when I was an elementary-schooler. It was enjoyable seeing other students my age use their talents to create fun stories for kids. Who knows? We may be witnessing the work of the next Dr. Seuss.