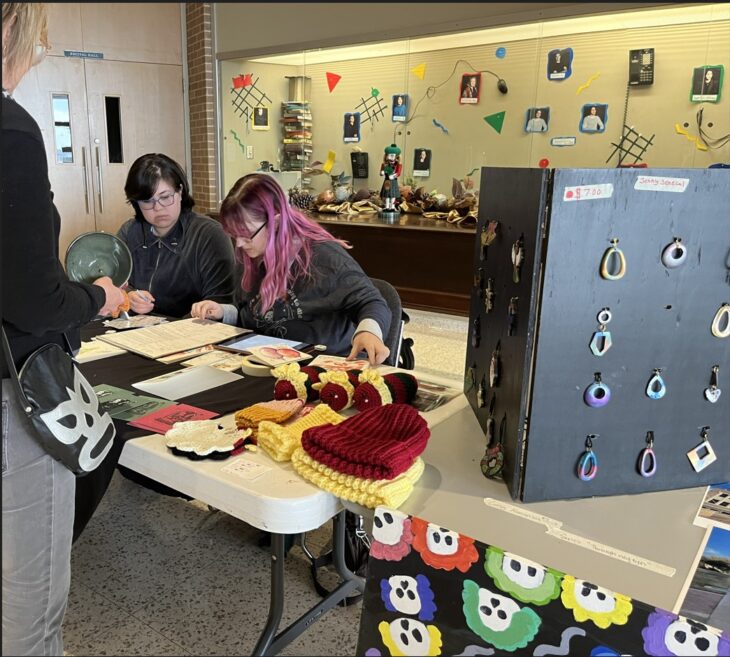 Student Art Sale: support Artists and get in the Holiday Spirit
Just one more week before the 2022 semester is over! Winter holidays are right around the corner ready to embrace and lift our spirits, and what better way to celebrate the new season than joining McMurry's Art department in their annual holiday art sale?
This Friday, December 9th marks the closing of the holiday art sale stationed in the foyer of the Ryan Fine Arts building. Students across campus have collaborated with the Art department to share, showcase, and hopefully sell artwork, jewelry, ceramic pieces, and so much more.
Sierra Montoya and Jenny Senecal are seniors here at McMurry and shared with me their process, time, and experience with the art sale. Montoya is majoring in studio art with a minor in Sociology, and Senecal is an Art Education major with a minor in Math.
Senecal shared that the art sale is open to any student on campus. One does not, according to Senecal, "have to have an art major or to have taken classes" to be included in the sale! It is a creative and learning experience to sell art, and they want anyone who has an interest in artistic endeavors to have the chance to promote and "make a little bit of money before the holiday season" Senecal said.
Although it is not a requirement to be in an art class in order to participate in the sale, Senecal and Montoya discuss that many of the works created are products of art classes here on campus. For example, the numerous sections of ceramic pieces featured in this sale were created in the ceramics class, and have since been marketed to sell. "My paintings here were part of my senior art show that did not yet sell, but I do want to try and sell them," shares Montoya.
Both students acknowledge the opportunities granted through this sale, but also discuss some difficulties they've faced in the process of creating it. Senecal says, "for us right now it's about getting the word out. We're a small university and it's hard to get students to know about events." With finals next week, and the packed schedules and headspaces of all students on campus it is surely difficult to seek engagement, but the products are ones you don't want to miss!
When asked about the overall environment of the art department at McMurry, Montoya says that "we want artists to be confident in what they create and how they create it and what topics they choose to create things in. Artists just need to have confidence in what they do and also to push themselves into promoting their art—whether they want to sell it or not." Opportunities like this sale granted by the department get students prepared and excited to create things. Their efforts are incredibly impressive and should not go unrecognized!
Don't miss the final day to buy and observe the fantastic art here on campus! As well as be on the lookout for potential events in the future! Senecal says that the art department is in the beginning stages of creating another sale next semester, but in order to make that dream a reality, come out and support these students!
Students selling artwork are Taryn F. Potery, Jenny Senecal, Eddie Plowman, Hanna Niebelski, Savanna Simon, Jarren Ulibarri, Kyle Smith, Carlos Alejos, Siera Montoya, Cory Almanza, and Summer Schnider.