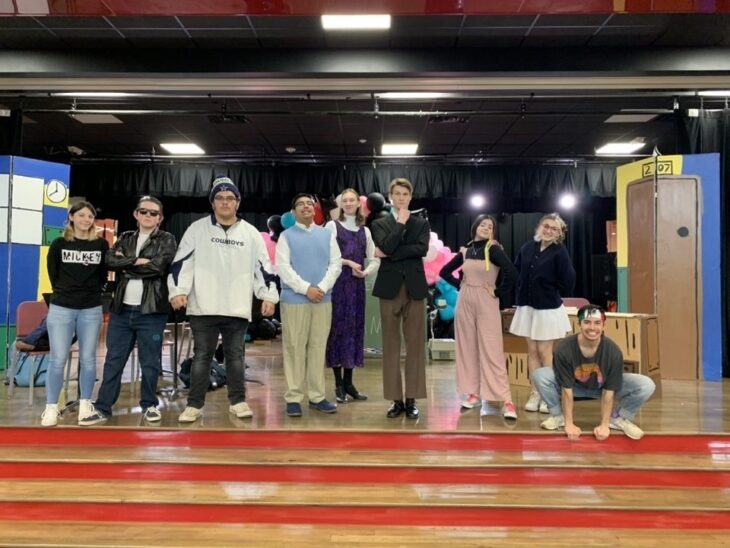 Student Theatre Company Herman's Ghostlight continues Growth
What a quick semester it has been! February has ended and we are entering spring! As the school year progresses it is easy to fall into a rut of impatience and restlessness, but there are so many things to look forward to in the coming months. Student built theatre company Herman's Ghostlight is an excellent example of the opportunities and activities coming to McMurry!
Last semester Herman's Ghostlight produced the children's show "Miss Nelson is Missing." The student-built company was founded during the Theatre Management class instructed by L.W. Miller. The students founded, designed, and recruited participants for their companies in the hope of creating a stable ground to produce shows. Their first ever show "Miss Nelson is Missing" had actors from McMurry's own theatre department, as well as the public. After the rehearsal process was over, the hard work of the company was performed at the library downtown for families and visitors all across Abilene. This show was originally only supposed to run once, but the attention and talk around the community reached Young Audiences, resulting in their recruitment of Herman's Ghostlight and its performers to conduct another show at Austin Elementary. So, as the next semester started, so did the work of Herman's Ghostlight Theatre Company.
Producers Abby Ewing and Tabitha Wilson graciously answered some questions about receiving an invitation from Young Audiences to perform again at Austin Elementary. As well as to how this project has challenged and enlightened their experiences in theatre.
"It was very exciting! I had a lot of fun working with other producers as well as the cast and crew," says Ewing when asked about what it was like to work as a Herman's producer. As the official artistic director of Herman's Ghostlight, Ewing oversaw venue opportunities as well as gained creative control over the production's overall appearance and expression. She says it was rewarding to, "find a show to put on and actually get done."
Wilson was the assistant social media manager for the company and assisted in accumulating props for the show. When asked about her experience working as a producer for Herman's Wilson says, "it was a fantastic learning experience as a whole. This show taught me how to work better in team environments and that communicating is the only way to see the best results in anything."
Although they had immense success working and producing their first show, the process came with some challenges.
One of the biggest struggles according to Wilson was creating a balanced and cooperative schedule between actors, producers, and technical things. "Making sure everyone was on the same page and at every meeting was a struggle," she says. However, Wilson does remark that efforts of the cast to "take on responsibilities that weren't originally theirs," helped the production and process immensely.
Ewing shares her insight as well to the challenges of this show, but more so from the perspective of the struggles of being a student made company. She says, "the hardest part about being a student made company is trying to branch out from the idea of being a 'McMurry Company'. We are McMurry students, but our company is not McMurry's theatre company." It was a big challenge to make a name for themselves outside of the McMurry brand, but they sure did achieve that goal! Ewing shares that "hearing that Young Audiences wanted our company to come back for a second performance was amazing. We had never anticipated that kind of feedback."
Wilson shares that this experience, "stretched our abilities and made us see each other's strengths so we can highlight them in the next project." Ewing also confides about her experience in the company and says, "the most rewarding part was seeing and hearing how much people loved our show. I plan to continue working with Herman's to keep this theatre company alive and maybe one day become a bigger organization!"
Both women remain members of Herman's Ghostlight and are excited to continue working on and producing shows. The next show in the works is Treasure Island! Keep a look out you don't want to miss out on Herman's future creations!