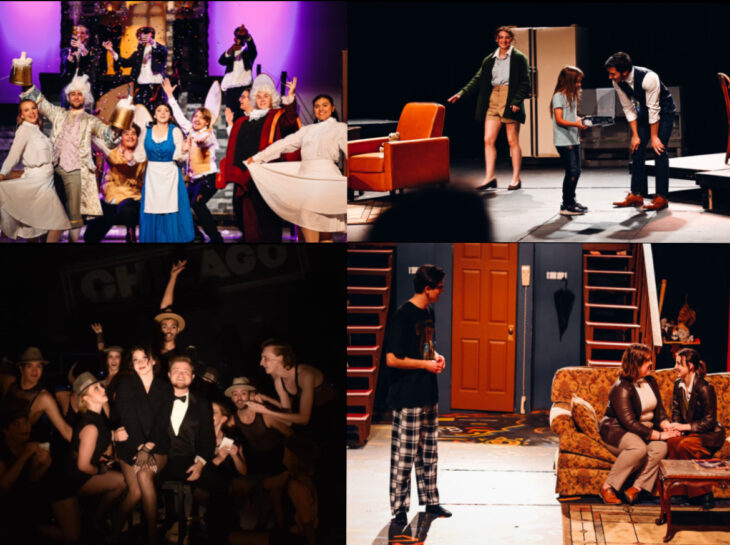 Wow. What a journey this whole academic year has been. I am only a freshman at McMurry, but my experience here has already become incredibly impactful and enlightening. I began my year with a major in Studio Art, but have since additionally picked up a minor in Theatre and Communications. My schedule has become quite busy, but McMurry has provided me with amazing opportunities that encourage and support all activities and subjects I'm passionate about.
Being a freshman in the Theatre department in particular has been an incredibly wonderful experience. I was able to be apart of four shows this year with McMurry Theatre, one of which being before I was even officially a student. The department has opened their doors and their hearts to me this whole year and I am incredibly honored to be here with them.
My favorite theatre experience would have to be participating in the summer musical Chicago. My debut role as Roxie Heart encouraged my initial consideration of joining McMurry Theatre, and I'm so glad I did. From dancing and singing in the musicals to channeling real and emotional elements in my acting, my overall production experience within the department has been immensely rewarding. I was granted many performance opportunities this year, but being involved in the department has opened my horizons to visual and technical elements within theatre as well!
Specifically, I have found a passion for costume design whilst being involved in theatre, and was able to costume three shows this year. This semester in particular I was able to take a costume design class, where my creativity and passion for fashion were able to thrive. The projects were fun and engaging and challenged me to create unique and personal designs according to different shows and dynamics. My reputation as a "costume designer" has been recognized this year, and I am projected to design and create the costumes for two shows in the theatres summer season!
Being involved in the theatre has not only enriched my acting/technical experience, but the student community has been so open and welcoming, and I've made incredible friendships within the department. The people here are kind and loving and immediately embraced me into their family. My closest friendships have developed in the theatre and I'm excited to experience and interact with them as my college experience continues!
This year has been busy. It's been long and chaotic, but I wouldn't trade my experiences so far for anything. The theatre department has provided so much love and opportunity and I'm incredibly grateful to be involved. Thank you McMurry for supporting my passions and for creating an environment where my individual, academic, and social endeavors can thrive! See you next year!