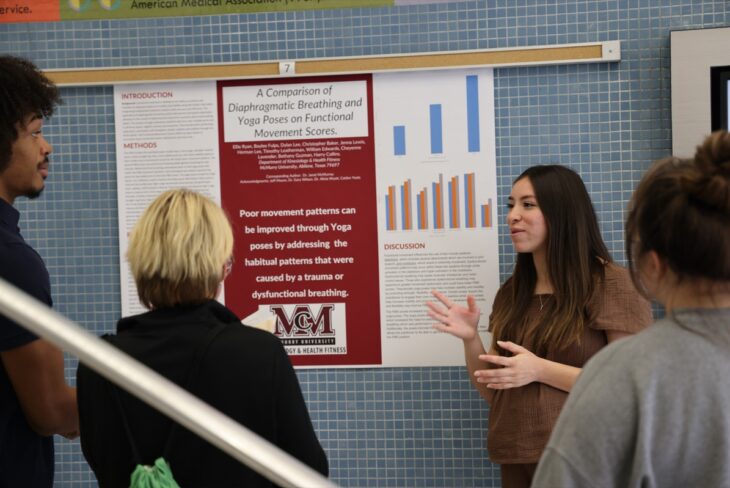 McMurry's Academic Symposium: Something for Everyone
On Friday April 28, 2023, all of McMurry's classes were cancelled for the day to focus on the presentation of the hard work of many students across campus. Students were instructed by many staff members to go to several of the events and see what their classmates have been working on. Students were sharing some of their best work from this academic school year. This work included papers, posters, presentations, pieces created in the visual arts, musical and theatrical performances, and more! The Academic Symposium showcases the best undergraduate academic work on our campus and from nearby colleges and universities.
The opening keynote address was held in Radford Auditorium, and it began at 9:00 a.m. they were handing out programs that had been stamped to show you had attended, there were several spots on the programed to get stamped so that students and faculty could keep track of where they had been and where they needed to go. There was a guest speaker for the opening keynote address. The speaker was Sterling Hawkins, he had a great message to share with the students and faculty. He shared his story, the hard times he endured and his journey to success. He is an author, investor, entrepreneur, and the founder of the #NoMatterWhat movement. Sterling Hawkins shared with us his struggle and hardships, but he also shared with us the way he dug himself out of the whole that he was in. He shows people how to achieve the results they want regardless of the circumstances they are in. He encouraged the audience to embrace #NoMatterWhat to have their big dreams line up with their results. He did a really good job and was motivational to the students and faculty that were present during the keynote address. He started off the Academic Symposium by being motivational and giving encouragement to set the day up with a positive mindset.
The entire day was filled with lots of Student Research, Scholarship, and Creative Works. Students dressed in their proper attire and were filled with excitement to share their hard work with others. I personally wasn't able to see all the different work being presented because I had to present research myself but… the few things that I was able to make it to made me realize that lots of students here at McMurry put in a lot of work when they are passionate about what they are doing and they were thrilled to share their work with everyone that were interested.
There were many Theatre productions at the PlayFest all throughout the day that took place in the Ryan Little Theatre. There were also many music honors recitals that took place in the Ryan Recital Hall. Many students went to support their fellow classmates and shared that they enjoyed these productions and were glad they were able to support their friends.
The Academic Symposium then ended with the Plenary Session where students and faculty joined McMurry alumnus Joonbug McIntosh for an interactive, engaging presentation as he took the audience through his creative process.