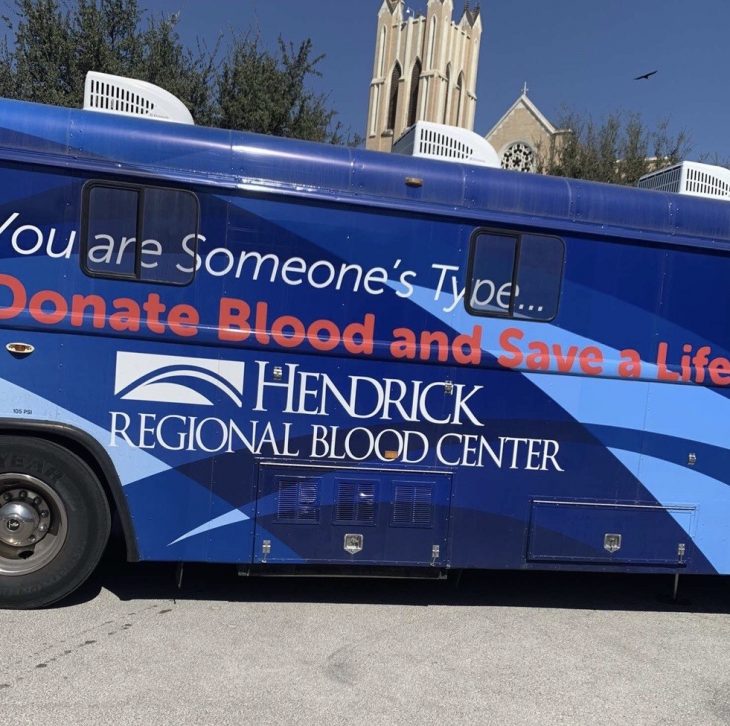 McMurry University hosted a Blood Drive at the Campus Center on Friday October 16th to help the local community of Abilene. The blood banks were in need of donations and invited all healthy individuals to come to donate blood.
This event took place during McMurry's Homecoming week and was an interesting event that many students jumped at the opportunity to volunteer and make a difference in. There has always been a need for blood, but the blood supply and demand has been affected by COVID-19 and Hurricane Delta, among other factors making this event important to many people.
The donors would fill out papers and present a photo ID and then they were sent outside to the blood donation bus where the workers took the donors to a private section to ask further questions to determine if they were eligible to donate blood that day. If determined eligible the donor would choose which arm, they preferred and then the workers would have them sit back and elevate to then begin the process by cleaning the area and sticking a vein. The blood donation process doesn't take very long and allows for donors to feel like they are making a difference in the world in just a short amount of time.
An anonymous student said "I have donated before and it never fails that each time I do, I get this feeling and it gives me a bit of joy knowing that I can help in some way. If it were me in need, I would want someone to help."
Donating blood is important because blood cannot be manufactured outside the body, our bodies are the only way to produce blood. Blood is necessary for life, and donating can save a life. One pint of blood can save up to three lives! When a traumatic event occurs in an emergency room, blood banks are their first line of defense. It is awesome to think that many of the McMurry students, faculty, and staff were so willing to donate and help the community of Abilene.
"It was different, I had never donated from a bus before, but I thought it was cool and convenient. I like to think that I am making the slightest difference in the world by donating my blood." said McMurry freshman Christen Bazile.
I was made aware that according to the American Red Cross, only thirty-seven percent of the country's population is able to donate blood. Luckily, I know that I donated because I was able to. I think about it as if my family or best friend needed blood I would do it without question so why can I not be the change and do it for a stranger(s) in need.
If you think you might ever want to donate blood, you should! You have the ability to help someone in need. Remember, one pint can save up to three lives and since you can spare it, why not share it.
You are Someone's Type…Donate Blood and SAVE A LIFE!