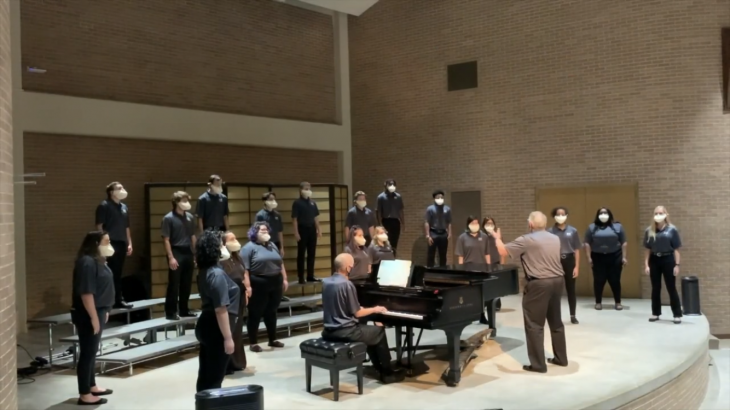 The Masked Singers: Chanters' 2020 Homecoming Performance
Not even masks could contain the musical energy radiating from the McMurry Chanters this past Friday.
Despite the difficult circumstances of this year's homecoming, Chanters pulled through with a fantastic performance, especially given their small audience of four cameras, two camera men, and me.
When asked why the music concert was made virtual, Dr. David Wallis, Chair of the Music Department, had this to say:
"We chose to present this concert online for three reasons. One: there were not going to be alumni coming to the Homecoming this year and we wanted something for them. Two: We had an opportunity to have more musical ensembles participate than usual, which we felt was a necessary programming objective. And three: The department has an obligation to present at important moments, and this gave us a chance to demonstrate music is alive and well at McMurry, even the midst of the pandemic."
"Explode with energy!" Dr. Wallis told the group during their vocal warm ups.
Donned in their singer's masks which looked like tan duck bills, the Chanters stood tall with pride, their voices bouncing off the walls of the Ryan Recital Hall.
It was a special experience to watch them perform in person. Van Hayes, an alumnus from 1983 and the Chanters' new accompanist, shared the same sentiment, "It's a joy and a privilege to get to hear them sing every week. They're so talented and they have such a beautiful spirit. I always enjoy the rehearsals."
Between each take, the singers chattered amongst themselves, as close-knit a group as ever, even when socially distanced. "It's interesting that we are able to catch up…It's pretty cool seeing that everyone's coming back," said Tony Peace Phan, a 2020 graduate.
Camera men Tres Perkins, a senior, and Adam Clifton, a sophomore, felt the same way. "It's very important that we try to keep things happening, whether virtual or in person, as long as it fits the procedures. Mentally it's been hard on everyone in different ways. It's important to keep stuff going on," said Tres Perkins.
As they sang Greg Gilpin's "How Can I Keep From Singing," I wondered to myself, How can I keep from clapping? The Chanters' expressiveness was incredibly uplifting andtheir performance of the "McMurry University Alma Mater" was timeless.
Even though this year's homecoming faced more restrictions on the kinds of activities students and alumni could take part of, like the Chanters who would not let their masks limit their beautiful, powerful music, McMurry too would not let the pandemic stop them from having the best homecoming ever.
The Chanters performance, as well as the other homecoming musical performances, can be viewed at the link below:
https://www.youtube.com/watch?v=TdJRaALCJ9Y&feature=youtu.be&fbclid=IwAR0WnCPGhgJxqR7rfdDGGWUmrfB88sVgC2gqYqMXMi8NXT0QAALj_PG9Moc