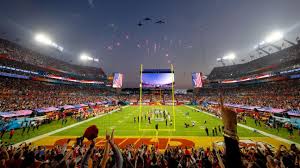 Residence Life and the Campus Activities Board prided themselves in providing a safe and convenient space for students to enjoy Super Bowl LV this Sunday within the spacious walls of the Kimbrell Arena.
"We were notified earlier that week that we would proceed with hosting the Super Bowl party on campus," said Chloe Johnson, Director of Housing (Campus Living Villages) and Hunt & Martin Halls, "We spent a whole week in constant communication and teamwork with C.A.B., Res. Life, I.T., the campus food service, the Athletic Department, and Student Affairs."
Students and staff working "The Big Game Party" served attendees with a cheery disposition, while adhering to health protocols. Upon entering J.W. Hunt Physical Education Center, students were directed to the sign-in desk where Chloe Johnson and Allen Portier, Assistant Residence Hall Director, greeted students and checked temperatures and handed out meal tickets and admittance bands. Attendees were then directed to their reserved tables, where students would later chat amongst themselves about classes and, of course, the big game.
"I'm rooting for Kansas City," said Terrin Boehmer, a sophomore business major.
"Same. I'm tired of Tom Brady winning," said David, a junior chemistry major, "The game is more interesting this year, though. They're actually making progress across the field. Last year it was more static."
The staff worked hard to make the arena more inviting and it showed. The floor was covered in carpet, giving the room a homey feeling despite the distance between the tables and their respective students. A tall projection screen loomed in front of the room and the game's audio boomed over the gym's speakers filling the otherwise silent space.
As the game progressed and students finished their meals, many left to attend their own Sunday plans.
"As long as one student comes, then we have accomplished what we set out to do," said Chloe Johnson, "We provided a convenient option for students to safely enjoy the game."
Allen Portier looks forward to more R.A. run programs later in the semester and more opportunities for students to participate in on-campus activities this year.
As universities across the nation struggle to balance social interaction with social distancing, Residence Life prepares and encourages a safe, close-knit environment for McMurry students to enjoy if they so choose.