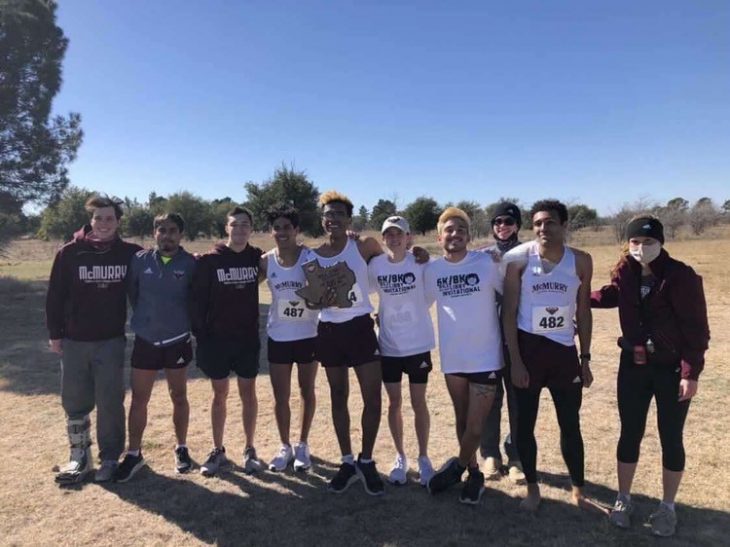 Winning Season for War Hawk Cross Country
The Men's McMurry Cross Country competed in the Bill Libby Invitational and took home a first-place win for the first time in seven years. This meet was hosted by McMurry and took place on Saturday February 06, 2021 at the ACU Cross Country Course. Both men and women's teams have been training and pouring their hearts into running since they got to McMurry in the fall, not to mention the training that took place before they got to Abilene.
After lots of early morning practices and many miles, the teams are finally able to see their progress while kicking it into race mode at their third meet this year. The ladies team ran hard and finished in second place at the invitational.
Cross Country athletes are often less visible than other athletes as they compete, but their training is among the most physically and mentally challenging there is. When many people overlook the hard work of these athletes and their training, they aren't realizing that when they are competing in an actual meet it is their celebration of all the hard work paying off after vigorous training.
Cross country runners are a unique breed, they push themselves to the limit for their own personal goals but… they are also running with the heart of their teammates. Team bonding is so important, when the cross-country team aren't training, they still spend a lot of time together. Though the men's and women's teams compete separately the great qualities each group possess brings out those qualities in each other to compete and represent McMurry.
The freshman runners show great promise, though they are new to college running they bring lots of talent and are sure to fill the shoes of those who have graduated with their gained experience the past few months. Even though these runners have knowledge of the other people that may be stronger and faster than them they test their limits and work as hard as possible to prove to themselves that they have what it takes. Improvements have been seen already this season for the War Hawk Runners.
Cross Country is challenging, demanding, painful, and rewarding all wrapped up into one beautiful experience. Cross country is a continuous sport, there are no breaks or time outs during a meet, just tough-minded athletes with a drive to perform at the very best of their ability. Running pushes these athletes to give it their all even when they are not feeling the best, or their life is crazy. Much like other competitive sports these runners believe that running and competing has changed their life in more ways than one and for the better as well.
"Running has taught me so much about my life and myself that it is unrealistic, I don't know who I would be without running." says anonymous cross-country athlete.
Make sure to congratulate these unique and hardworking runners for a successful start to a crazy season and good luck for their future meets!