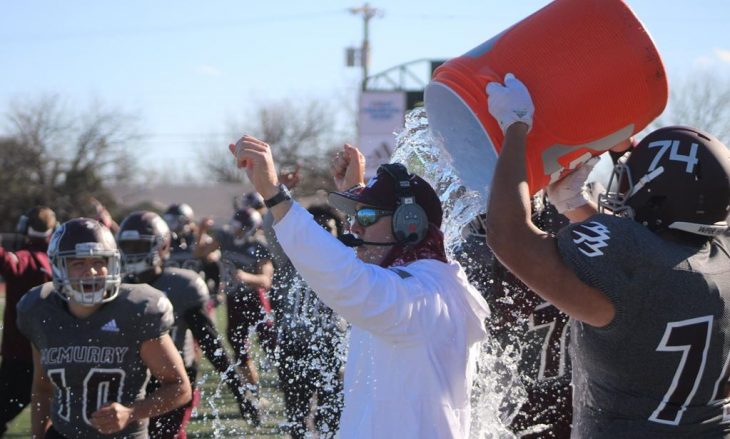 War Hawk Football Flies Again
War Hawk football made its shining debut this season with a win over Sul Ross State. The McMurry men brought home the I-20 trophy after a tight 17-14 win over the Lobos. This marked the War Hawk's first win since 2018 and head coach Jordan Neal's very first win at McMurry, celebrated with a Gatorade bath.
This victory was hard fought with Sul Ross taking the first touchdown of the game. McMurry pushed back with sophomore Dee Robinson pushing McMurry's first touchdown in from the two yards out. McMurry's defense was the shining star of this game, however, forcing three punts and a turnover on downs in the second quarter. Sophomore Jared Mendoza ended a six-play run with a field goal at the end of the second quarter to push the War Hawk ahead 9-7.
Sul Ross pulled in another touchdown in the third quarter, the last time the Lobos scored during the game. Answering back to the Lobos, Dee Robinson rushed in another touchdown in the fourth quarter. Ahead by only one point, Coach Nell successfully attempted a two-point conversion with sophomore Carlos Garibay giving freshman Kristopher Martin the ball landing him in the corner of the end zone. McMurry's defense took the rest of the game, stopping Sul Ross at every turn.
Mother Nature pushed back McMurry's two away games, facing McMurry off against Hardin Simmons University for the final home game. Taking their first loss of the season the War Hawks again lost the Wilford Moore Trophy to the Cowboys. The first game of the season for Hardin Simmons, started them with an early lead running in their first touchdown less than three minutes into the game. McMurry's defense fought hard but the 39-yard touchdown pass struck hard. The Cowboys scored again ending the first quarter 14-0.  Another touchdown capping of the second quarter put the score at 21-0 going into half-time. Hardin Simmons scored three touchdowns in the third quarter soaring the score to 42-0. McMurry found ground in the fourth quarter after another touchdown from Hardin Simmons. Carlos Garibay found Kristopher Martin for a touchdown pass. The final score 49-7, marking a disheartening loss and setting the War Hawks at 1-1 going into their bye week.  
The War Hawks will face off against the Texas Lutheran University Bulldogs March 13, playing on Bulldog territory.