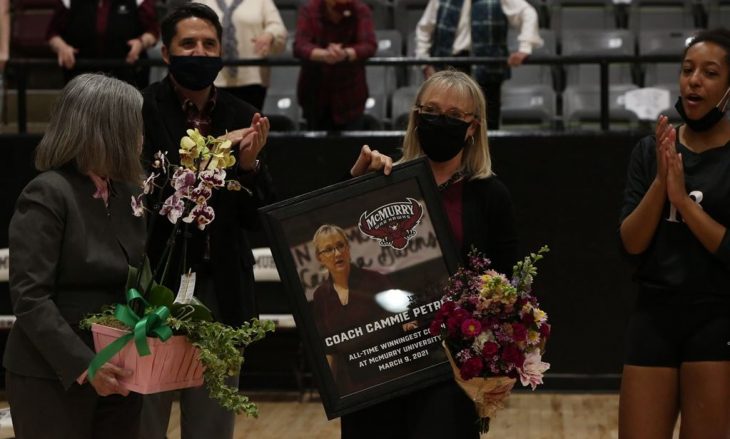 McMurry volleyball is only half-way through their season and the team has already smashed a record. Their victory over Hardin-Simmons University made head coach, Cammie Petree the first coach in McMurry's history to reach 450 career wins. Coach Petree earned this record over her 25 seasons at McMurry. Celebration erupted as Coach Petree was announced as the winningest coach in McMurry Athletics history.
Game 1 against the Cowgirls saw the War Hawks fight through a four set battle for a 3-1 win over Hardin-Simmons. Senior Megan Martinez boasted a career high 17 kills while senior Brynn Wilson added 15 assists. Freshman Madison Cuellar led the game with 16 digs. In the first set McMurry jumped to an early lead, fighting back and forth for most of the game until, McMurry took the lead back to win 25-19. The second set saw the teams holding a tie 13 times during the set. Towards the end of the set McMurry and HSU were back and forth until an ace from Martinez and a kill from Madison Cuellar pushed the War Hawks to a win. The Cowgirls took the third set pulling ahead late in the season. The final set saw another tight win for the War Hawks fighting back and forth until McMurry finally overtook the Cowgirls.
Game 2 against Hardin-Simmons proved even more successful than game 1. McMurry swept the series with two easy victories and one close call. Freshman Kaylie Vasil was able to match her season high 15 kills, she also added 12 digs and a .357 attack percentage. Sophomore Addie Leal also achieved a season high with 21 digs. In set 1 the Cowgirls came out with an early lead but the War Hawks were able to shut the streak down. McMurry then pulled ahead with Vasil scoring a final kill the end the set 25-19. Set two, McMurry dominated with a 15-6 lead over Hardin-Simmons. The War Hawks keep that momentum going ending the set at 25-16 over the Cowgirls. The third set proved to be the toughest with the lead being handed back and forth and both teams running point streaks. McMurry was able to pull ahead at the end of the set after an HSU service error, followed by Vasil making a final score ending the set 25-23.
The War Hawks play their next season series at Howard Payne University today at 5pm.