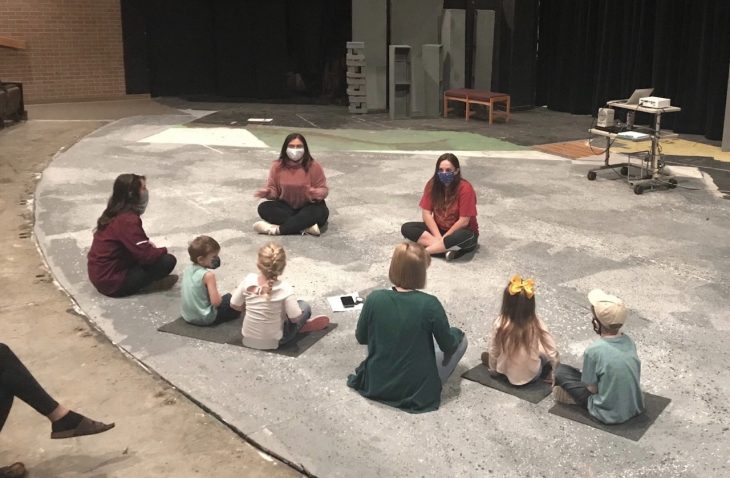 Story Time in Ryan Little Theatre
On March 13 in Ryan Little Theatre, the students of Neena McLain's Children's Theatre Practicum course told stories to children. There was an excitable energy in the air as kids shifted in their seats awaiting story time.
This story time event wasn't initially planned for the public, though.
"We were going to do it over a video-call for a friend of mine in Louisiana for their class," Professor McLain explained, "But with Covid restrictions softening, I wanted our new young storyteller's to experience the children's energy first hand."
Before story time began, Erica DiGiacamo, a student, led a game of Simon Says. The children giggled and relaxed a bit before sitting down on their respective carpet squares.
Professor McLain warmed up the audience by telling Mercer Mayer's Liza Lou and the Yeller Belly Swamp. As McLain told the story in exaggerated movements and funny voices, a two year old little girl in pigtails walked up to her to participate in the story.
"[My daughter, Lyric,] loves listening to stories," said her mother Zoe Leal, "We have a huge shelf full of books and are frequents at the library."
After Professor McLain finished, I told Aesop's "The Honest Woodcutter," a story my father used to tell me before bedtime. It was a different experience telling the story as opposed to reading it from a book. Just as I practiced, I made big gestures with my arms and dramatic voices to entertain the children, and even got some laughs from the adults. It was exciting to interact with the audience and connect with them through this fable.
Next, Hayli Isbell told another Aesop fable, "The Boy Who Cried Wolf."
"When I say 'Wolf! Wolf!'" she instructed before the story, "You guys are going to put your hands to your head in the shape of wolf ears and howl."
Every time the boy cried wolf, a collective howl would echo throughout the theatre to much of the audience's splendor.
Next Erica DiGiacamo told Judith Viorst's Alexander and the Terrible, Horrible, No Good, Very Bad Day. Instead of sticking to the exact character names in the book, Erica personalized it and included audience members' names. It was a nice touch paired with the character's grumpy persona.
To finish the story time, Madelyn Melbourne told an African folktale called "The Caterpillar's Voice."
Although the cute wiggly caterpillar had a tiny voice, every time Madelyn said, "It is I!" all the children would chime in, "The biggest and the strongest of them all!" simulating the caterpillar's big echoed voice in the cave throughout the story.
"My favorite was the caterpillar story," Logan Goff, age eight, said, "The lesson is that you can stand up for yourself if you're small or tiny."
Professor McLain said, "The students did fantastic and far exceeded my expectations, and my expectations were high already. I was impressed how each storyteller adjusted to the energy. It's a give and take and that's why I like it."
"Storytelling," said Zoe Leal, "helps you bond with kids and educate them. They learn about empathy and how to interact with others."
Professor McLain looks forward to her students' upcoming children's production of Dinah Toups' Totally Red, a fantastic retelling of "Little Red Riding Hood" in different genres!