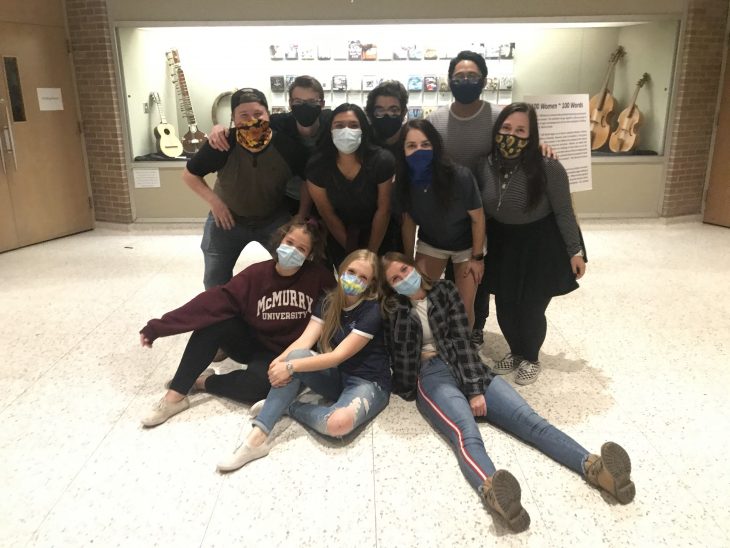 Godspell: An Inspirational Musical!
The sweltering Texas heat is simmering down as a cool breeze floats over the campus. Homecoming time is here again at McMurry University!
As students purchase pumpkins for carving and pull out soft sweaters for the promise of cooler weather, in the lobby of Ryan, a group of energetic students rehearses for Godspell: McMurry's 2020 Homecoming Musical.
Godspell (1971), conceived and originally directed by John-Michael Tebelak with music by Stephen Schwartz, is a musical in which Jesus Christ and nine non-biblical characters (excluding Judas Iscariot) perform parables and sing songs, creating a community of love and holiness under Jesus' instruction.
The music ranges from folk to jazz to rock 'n' roll. There's something for everyone to enjoy and the cast brings so much energy to their performance.
When asked why he choose Godspell to be the homecoming show this year, the director, Kerry Goff, had this to say, "It had to do with coinciding with the McMurry centennial theme: inspires. Christ's story is incredibly inspiring, especially in the midst of the pandemic."
Godspell performances will take place on October 15 through the 18th at 7:30 outdoors on the McMurry courtyard. The staging and choreography have been planned with social distancing protocols in mind. It may be chilly during some of the shows, so make sure to bring blankets or jackets just in case.
Given the increased number of restrictions for campus activities, it is a relief to know that the theatre department will do their best to continue creating art in the face of this pandemic. Theatre performances are a nice excursion from the stresses and mundanities of life.
Godspell is a show for the whole family. It's packed with comedy and beautiful music. The uplifting story of Jesus Christ building a community of love and holiness among a diverse group of individuals is sure to leave audiences inspired and warm—just the thing we need for this homecoming season.
You can reserve seats the week before opening night on October 8th. The department will launch an e-reserve link on Facebook, Instagram, and Twitter. There will also be an e-mail sent to the student wide, campus wide, and faculty wide emails.
The e-reserve link will send you to a Google form. There are seventy five spots per show. No seats will be provided, so make sure to bring blankets, lawn chairs, etc. You are allowed to bring food and drinks, but no alcohol as McMurry is a dry campus.
Admission is by donation to the McMurry Theatre Department. A ten dollar donation is encouraged, but donate what you can.
Remember: performances are on October 15th through the 18th at 7:30 with admission by donation. The cast hopes to see you then!